National Park Friends Alliance Meeting: Learning from Our Peers
Written by Tina O'Connell
This year the annual National Park Friends Alliance Meeting convened in Gatlinburg, Tennessee, a town nestled at the foothills of the Great Smoky Mountains National Park. The Friends of the Smokies hosted the conference in partnership with the National Park Service, the National Park Foundation and the Steering Committee of the Friends Alliance. This group was created to bring together "Friend Groups" whose mission is to support the National Parks.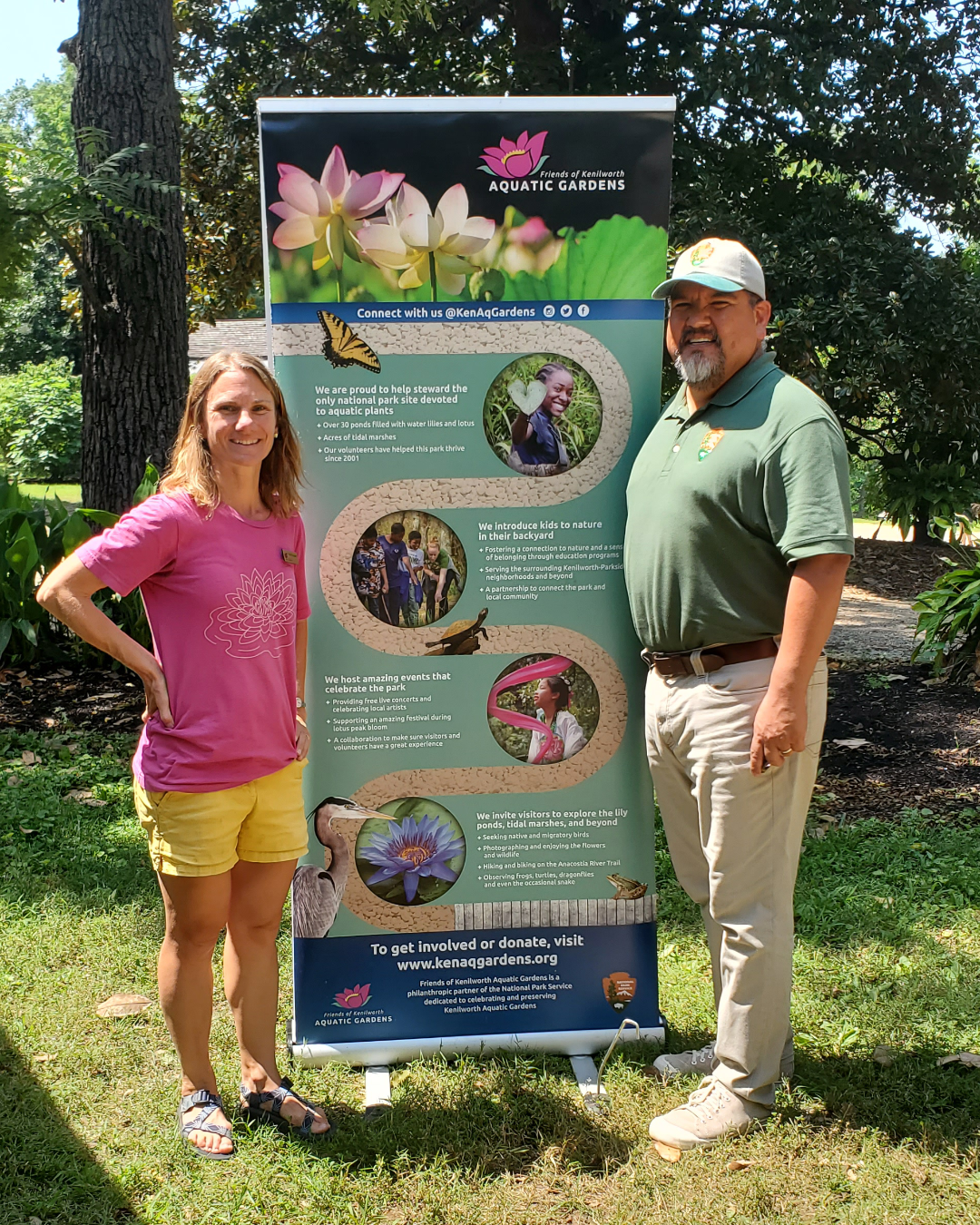 I treasure this opportunity to be among like-minded individuals who share similar stories about working to support National Parks and provide enhanced opportunities and experiences for those who live adjacent to our national parks, as well as other visitors. It is an opportunity to learn more about innovative programs and get the best tips for securing resources to keep our work and parks healthy and robust.
The conference opened with Charles "Chuck" Sams III, the 19th National Park Service Director, giving the group welcoming remarks. Director Sams is an enrolled member of the Confederated Tribes of the Umatilla Indian Reservation and is the first Native American to serve in this role. We were glad to see Director Sams again after he visited Kenilworth Aquatic Gardens this summer! 
My favorite part of the meeting was a panel discussion titled "Parks as Places for Healing." 
As you know, Kenilworth Aquatic Gardens is an oasis in the city that many of YOU, our neighbors and visitors, go to seek refuge and respite. We've doubled our efforts to make this possible by continuing to protect and preserve this beautiful space through volunteer support and the development of WELLderness, a new series of outdoor wellness classes designed to reach and support our park neighbors. Throughout the meeting, I was happy to share this new program and answer questions from colleagues on how to develop a similar program at their park. 
During the "Parks as Places for Healing" panel, I was particularly inspired by Golden Gate National Parks Conservancy, who helped create an "Activator Council" in 2021 comprised of Bay Area community leaders, artists and activists representing communities historically underrepresented in national parks. This dynamic group of change-makers were charged with incorporating art, culture, food, healing, wellness, music, and cultural learning and exchange into the opening season of events and experiences at new Presidio Tunnel Tops so it can be a welcoming and inclusive space for all. I loved that the Conservancy provided funding and resources that allowed community members to design and lead programming in the park. It's a model of co-creation that we hope to support in the future and weave into existing programs.
As with many meetings, sometimes the best interactions come during breaks and or in the hallways. For me, it was the elevator where I found myself in the good company of Jewel Harris, the Superintendent of the William Howard Taft Historic Site. When I introduced myself, she said, "I know and LOVE Kenilworth Aquatic Gardens!" Ms. Harris grew up near the park in DC's Ward 7 and began her career as a junior park ranger with our legendary Walter McDowney, fondly known as "Ranger Mac". In 1968, he was hired as one of the first African American national park rangers at Kenilworth Aquatic Gardens. He inspired everyone with his love of nature, including Ms. Harris who worked her way up the national park service ranks!
Our work National Park Service helps protect and preserve the only national park site dedicated to cultivating and displaying aquatic plants. I am proud of our work and inspired by this whole "sector" of Friends groups around the country. Many thanks to the National Park Foundation for providing a grant to help make it possible for groups like FoKAG to participate in sharing and learning among our colleagues. 
Lastly, I enjoyed exploring the Smokey Mountains and talking "parks" with colleagues (yes, I saw a bear!). I can't wait for the Friends Alliance meeting next year at Cuyahoga Valley National Park in Ohio!