Friends of Kenilworth Aquatic Gardens unveils 'Passage: Reflections of Time & Space'
Friends of Kenilworth Aquatic Gardens unveils 'Passage: Reflections of Time & Space'
WASHINGTON, DC — The healing power of nature and art have been pronounced throughout the pandemic with record numbers of people gravitating to national parks. For 20 years, Friends of Kenilworth Aquatic Gardens has championed the power of green spaces urging residents and visitors to visit the country's only national park devoted to aquatic plant life, located in Ward 7. In an effort to help Washington, D.C., residents and tourists heal from the trauma that the pandemic and injustice has brought, Friends of Kenilworth Aquatic Gardens opens a month-long art installation at Kenilworth Aquatic Gardens entitled, "Passage: Reflections on Time & Space," Saturday, September 11. 
The installation, commissioned by the nonprofit and created by D.C. artist Omar Hakeem, AIA, of To Be Done Studio, moves visitors to reflect on the passage of time – specifically the last 18 months – and the importance of greenspace in communities as a place of respite, and as a resource during unsettling times. 
"Greenspaces, particularly national parks around the country during the pandemic, have become popular places to escape for a day or for a full vacation," said Friends of Kenilworth Aquatic Gardens Executive Director Tina O'Connell. "For those seeking an easy respite close to home, the neighborhood national park we support, Kenilworth Aquatic Gardens, is the perfect place. Fall is always a gorgeous time to visit and this year, for a limited time, visitors can engage with a new, experiential outdoor art installation that can help us heal and cope from past and current stresses. " 
Using mirrors and locally sourced logs, the installation juxtaposes the synthetic and natural beauty of the Gardens to offer visitors a newfound appreciation of greenspaces. The artist and curator hope the mirrors mimic a portal into a world more focused on the outdoors, and our connection with it, offering an escape for visitors. Further, the installation delves into the challenges around access to spaces, privilege, and their own relationship to wild and cultivated green space, issues Friends of Kenilworth Aquatic Gardens have committed to address alongside Ward 7 community leaders and residents. The exhibit will also include an opportunity for visitors to engage with the art and offer reflections to the art pieces that appear throughout the park.
"To Be Done Studio is so thrilled to be supporting the work of Friends of Kenilworth Aquatic Gardens and the neighbors they serve. The Gardens are an absolute gem within the city providing a place of respite and natural inspiration for so many residents, but need support in responding to their context," said Omar Hakeem, AIA, a D.C. artist and architect who specializes in social and environmental equality through thoughtful design and planning.
 "Parks all over the city (and nation) have a lot of work to do to transform the legacy of 'you're not welcome here' into 'all are welcomed here,'" continued Hakeem. "It's my sincerest hope that this exhibition brings attention and support to these issues as well as allows visitors to play, wonder and dream within this beautiful place."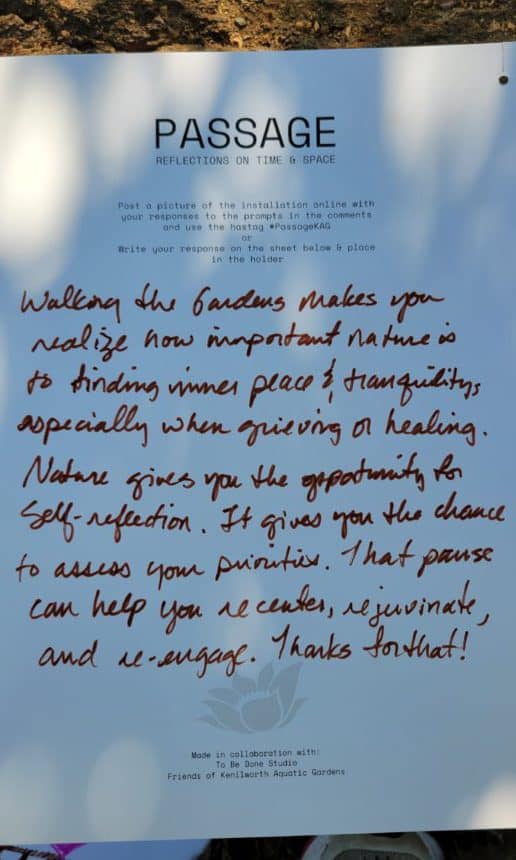 Volunteers including the Ward 7 park's neighbors are helping install and break down the outdoor exhibit which opens Saturday, September 11 and ends Tuesday, October 12. For those interested in volunteering the times are Friday, September 10, 9a-noon, and Saturday, September 11, 10am-1pm. The sign up link can be found here.
'Passage' is supported by Friends of Kenilworth Aquatic Gardens with funds from the DC Commission on the Arts and Humanities and individual donors. 
Kenilworth Aquatic Gardens, located at 1550 Anacostia Ave. NE, Washington, D.C., is open year-round and offers opportunities for all ages and interests including WELLderness, a free outdoor health and wellness series featuring music, fitness, art sessions, and experiences on the Anacostia River. For more information visit kenaqgardens.org. 
##
FoKAG is a 501c3 nonprofit organization that connects people to the park through stewardship, engagement and educational programs. We envision an Aquatic Gardens that inspires.